The Grippers are back in town and ready to ride.  That's the beginning of this great Eureka Times-Standard article. It gives the back story on Gripperdom and this year's Tour of the Unknown Coast adventure.
The traditional Friday night cocktail party outside the Ingomar Club was attended by 60+ people.  That's a record.  A new wrinkle this year was the oyster bar, which was a great addition to the festivities.  About 35 people squeezed into the Ingomar for dinner.  Somehow we managed to roast Butch on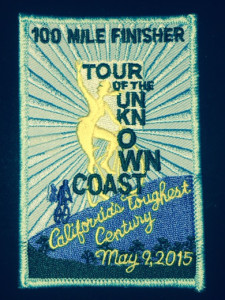 his 60th birthday and "badge" Horse Mt. Ski Patrolman Weldon B, and TUC rookie Meade B.
Then it was time to talk TUC strategy.  Knowing the general fitness level of most of the Grippers (zero to little training) Coach Larry gave us some last minute tactical advice:  "When you get to The Wall, take your shoes off.  It makes it easier to push your bike uphill.  When you get to the Endless Hills, get in the SAG wagon."  With that inspirational advice it was time to turn in for Saturday's 7am start.
A large number of Grippers finished "California's Toughest Century" which I think surprised and delighted Coach Larry.   Most of us finished in the back of the pack, but we finished.  We're not out of the game…yet.  Anyway, it's all about the TUC patch!
Thanks to everyone that contributed photos/vids, especially Headwall.  He shot the opening and closing video on the coast. Epic!
Fugarwe Films in association with Headwall Productions presents the TUC VIDEO.